Radiant Floor Heating Services
Discover a new level of comfort and warmth with Armstrong Electrical's radiant floor heating solutions. As industry leaders, we provide efficient in-floor heating systems designed to transform your living space into a warm environment during the coldest months in Michigan. In-floor systems use radiant heat technology that is energy-efficient and promotes healthier indoor air quality.
In-floor heating systems are easy to install, operate silently, and require minimal maintenance. They are also versatile, fitting seamlessly into any floor type – from tile to wood and carpet. With smart thermostats, you can customize your heating needs to your preference, ensuring ultimate comfort at all times. With Armstrong Electrical, comfort meets technology.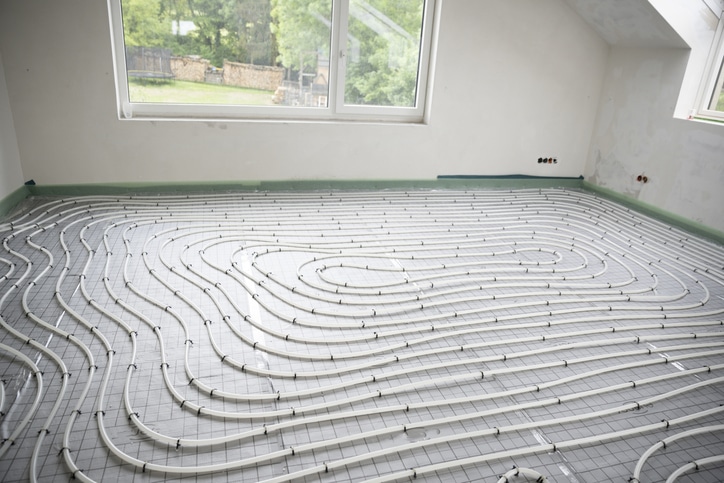 Radiant Heating Services We Offer
Full System Installation
Whether you are replacing your outdated system or adding supplemental heating, Armstrong Electrical technicians can install a custom in-floor system complete with modern features.
Preventative Maintenance
To keep your system running smoothly year after year, we offer annual heating maintenance. We inspect your entire system and make repairs or part replacement as needed.
Radiant Heating Repair
When your heating system goes bad in the coldest winter months, you can rely on Armstrong Electrical to deliver fast, friendly, affordable radiant heating repair you can rely on.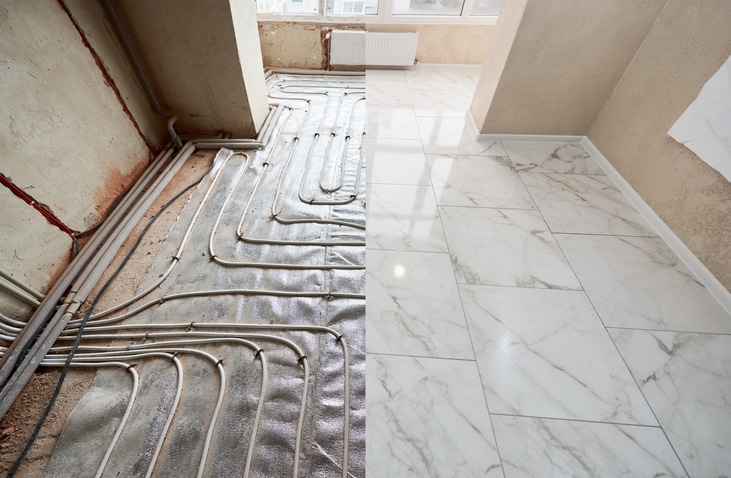 Radiant heating is a unique system that directly warms the objects in your room rather than the air. Unlike conventional heating systems, which rely on air circulation, radiant heating operates by emitting heat from a warm element underneath your floor, creating a more comfortable and uniform temperature throughout your living or working space. 
Traditional heating systems circulate air around the room, often carrying dust and allergens with it. In contrast, our radiant heating systems eliminate the problem, promoting better air quality. The silent operation and the ease of control add to the comfort and convenience. We don't just provide a heating solution We enhance your lifestyle with a healthier and more comfortable living environment.
What are the Benefits of Radiant Heating?
Our radiant heating systems offer a wide range of benefits over traditional HVAC systems.
A more efficient way to heat your home

Reduces energy costs

Creates a more comfortable and evenly heated environment

Used in conjunction with other heating systems

Quiet and low-maintenance heating system

Used in a variety of applications, including homes, businesses, and schools
Radiant heating offers uniform, efficient warmth, reducing energy costs and enhancing comfort. Unlike traditional systems, it doesn't circulate dust or allergens, promoting healthier indoor air quality. Its silent operation, easy control, and compatibility with various floor types make it a versatile, maintenance-friendly solution for a cozy and luxurious living or working environment.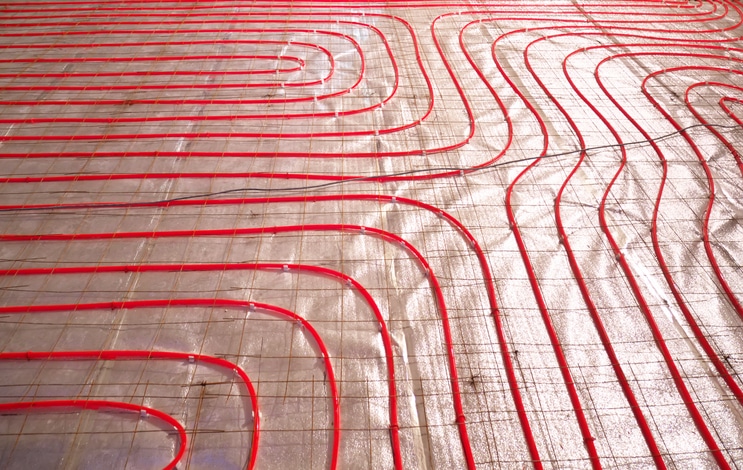 Work With Licensed Professionals You Can Trust
We at Armstrong Electrical are committed to providing our customers with the best possible Radiant heating services. We have a team of experienced and qualified technicians who are seasoned experts in Radiant heating systems. 
Licensed and insured contractors

Over 20 years of experience in the heating and cooling industry

A wide range of radiant heating services, including installation, repair, and maintenance

High quality materials and workmanship backed by our warranty

Competitive prices and financing options
Armstrong Electrical is committed to providing our customers with the best possible service. We offer competitive prices and financing options, so you can be sure that you are getting a great value for your money. We are also committed to providing excellent customer service.
Schedule Radiant Heating Services in Central Alabama
Contact Armstrong Electrical to schedule an in-home assessment and estimate for radiant heating services in Alabama! We offer a variety of radiant heating options to fit your needs and budget. Our team of experts will help you choose the right system for your home and install it quickly and efficiently. Call us today to learn more!
Frequently Asked Questions About Radiant Heating in Alabama
What is radiant heating?
Radiant heating is a method of heating a space by warming the floor, which in turn heats the objects and people in the room directly.
How does radiant floor heating work?
Radiant floor heating works by circulating warm water through tubes or using electric heating elements embedded beneath the floor surface, heating the floor material which then radiates warmth throughout the room.
Is radiant heating more efficient than traditional heating systems?
Yes, radiant heating is typically more efficient than forced-air systems because it eliminates the heat loss associated with ductwork and heats objects directly, reducing the need for higher thermostat settings.
Can radiant heating improve indoor air quality?
Yes, radiant heating doesn't circulate air like forced-air systems, which can spread dust and allergens. This can lead to an overall improvement in indoor air quality.
Can radiant heating be installed under any type of flooring?
Radiant heating is versatile and can be installed under most types of flooring, including tile, wood, and carpet.
Is radiant floor heating safe?
Yes, radiant floor heating is safe. It operates at a lower temperature than traditional heating systems and doesn't have any exposed heating elements.
How long does radiant floor heating last?
With proper installation and maintenance, a radiant floor heating system can last for up to 35 to 40 years.
Does radiant floor heating require a lot of maintenance?
No, radiant floor heating systems require minimal maintenance. Once installed, they typically perform reliably for many years.
Can I control the temperature of radiant floor heating?
Yes, radiant floor heating systems can be controlled with a thermostat, allowing you to adjust the temperature to your comfort level.
Is radiant floor heating expensive to install?
The cost of installing radiant floor heating can vary depending on the size of the room and the type of system installed. However, the increased efficiency and lower heating costs can offset the initial installation cost over time.
 

Residential Electrical Expertise
Whenever you need electrical services in your home, Armstrong Electrical Contractors in Birmingham has the expertise to handle it with speed and superior experience. Our expert electricians provide a variety of residential electrical services, including: 
  Electrical repair
  Performing electrical inspections
  Electrical heating
  Installing in-floor heating
  Installing new light fixtures
  Installing home automation
  Installing landscape lighting
  Appliance installation
  Hot tub & sauna electrical services
  Water heater replacement